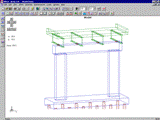 Viathor is a leading creator of concrete bridge
design software. Our innovative and intuitive
software is known for powerful capabilities,
comprehensive solutions, and ease of use.
We are dedicated to:
Providing powerful software tools that fully meet designer needs,

Developing bridge design programs that are intuitive and simple to use,

Performing complete and up to date bridge specification design and checks,

Ensuring program results are accurate and reliable,

Providing user support unmatched in the industry, and

Continually enhancing and maintaining our software.
Viathor provides state-of-the-art software for the efficient and accurate design of concrete bridges.
Home Software Support Download Contact Us About Us Site Map


Made in the USA Copyright © 2022 Viathor, Inc. All rights reserved.
Design bridges faster
with more confidence than ever before!