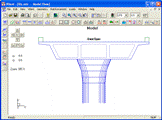 VBent Software



VBent is a powerful software tool created
specifically to assist the bridge engineer
in simplifying the pier design process.
VBent's
capabilities include:
Integral or non-integral pier types - the industry's first!
Models the entire pier/bent frame (cap, column, footings)
designs the pier cap, columns, and footings - all in a single analysis run
LRFD or LFD specifications
Automatically generates loads and load combinations, no user action is required
Designs pile or spread footings that can support a single or multiple columns
Visit our Features page for a detailed description of program capabilities
Confidently design substructures faster than ever with this comprehensive, yet easy to use program.

Home Software Support Download Contact Us About Us Site Map


Made in the USA Copyright © 2023 Viathor, Inc. All rights reserved.